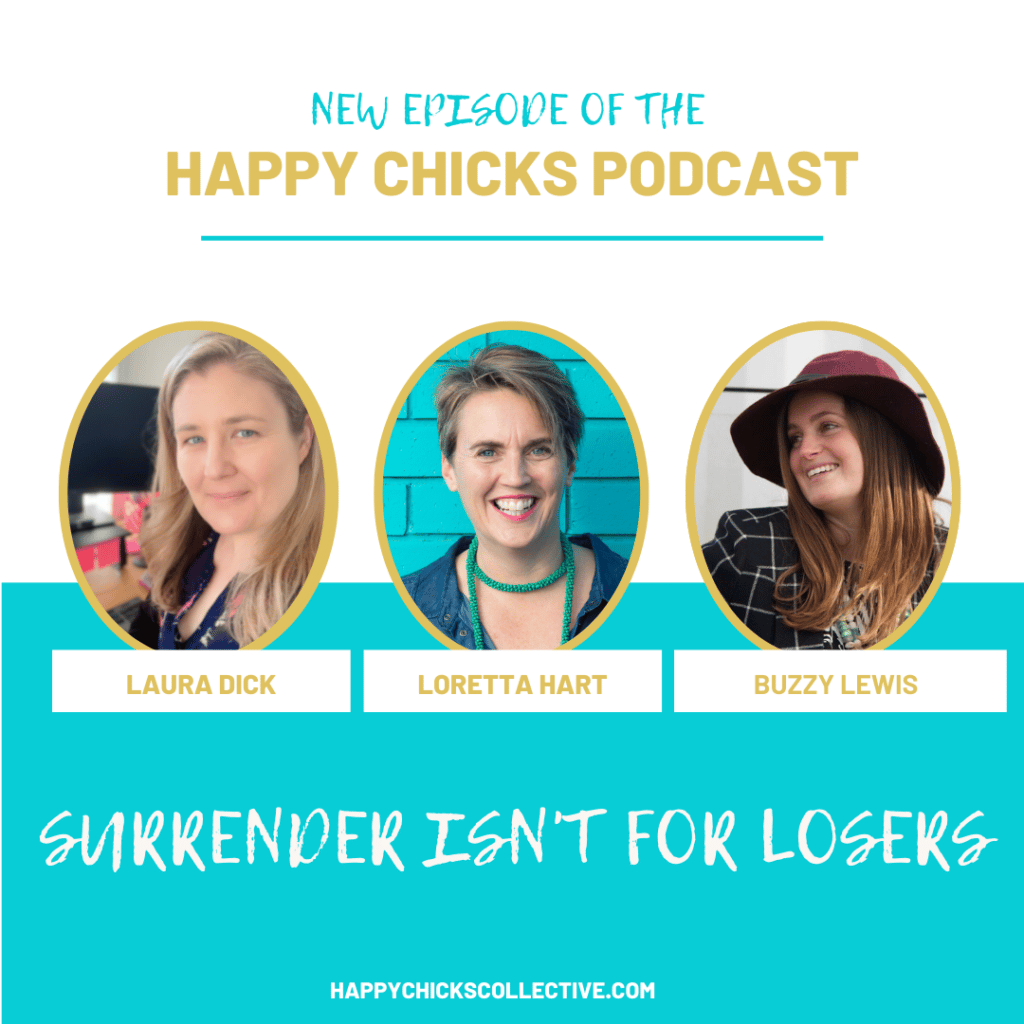 AUGUST 15, 2022 EPISODE 18
You can stop pushing sh*t uphill any time you like.
You have my permission to surrender.
Not because you can't cope but because you choose.
In this episode we dive into how Acceptance and Surrender are a fast track to more happiness joy and flow.  In the past "giving up" was shunned and "hustling and pushing through" was praised.  Fortunately we are moving into a time when we can know the power of letting go, accepting what is and being ok with it.
As Buzzy, my guest ,says, "There isn't a right way or wrong way to be, but there is a gentle way"
My guests this week are:
Laura Dick
Laura is a cyclical business mentor who helps high achieving and driven business women to ditch the hustle and run their businesses and launches with intention, and in alignment with their cycles.
With a blend of cycle syncing, systems, and planning, Laura's approach to business allows her clients to focus their time and energy on the things that matter most, and get results without burning out.
https://www.businesswithflow.com
https://www.instagram.com/businesswithflow
Buzzy Lewis
Buzzy Lewis spends her time between her partner's family farm and her beachy hometown Warrnambool, the natural beauty of both places inspire her endless creativity. Buzzy loves creativity. It lights her up, and it's how she pays the bills. She's been a graphic designer, marketing manager, artist, art teacher, entrepreneur and strategist.
But it's the dark-side of creativity that led her to become a writer. As a recovering perfectionist Buzzy is very susceptible to creative anxiety, self-doubt and creative burnout. Since 2014 she's been researching and writing about the lessons from the dark-side of creativity and building a pretty remarkable toolkit for what she calls a 'Failure Friendly Mindset'.
Her Failure Friendly action cards teach the three non negotiable skills needed for a Failure Friendly Mindset: self-awareness, self-belief and self-compassion. While her book 'Being Creative' goes beyond treating symptoms like perfectionism or procrastination, to explore the true cause of our difficulties and how to establish a healthy relationship with the creative process.
Buzzy's current creative projects include a farmhouse renovation, planning her wedding, designing a gameshow, self-publishing her second book, designing a jewellery collection and rolling out a worker attraction campaign as part of her day-job as an Economic Development Officer.
https://www.failurefriendly.com/